Community ~ Excellence ~ Fun
2018-2019 Regular Schedule
Information about cancelled classes due to weather will be posted here.Currently, all classes are in session.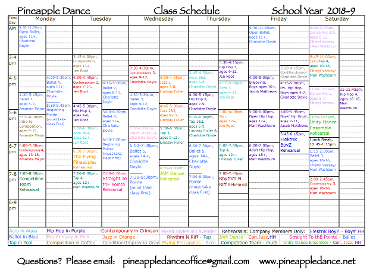 Schedule last updated 8/13/18
REGISTRATION
Our school year started in September.
For ongoing enrollment please email us and we will be happy to assist you!
All new students will need to complete the 2018-2019 Waiver and the registration form for New Students.
There is a $20 registration fee to enroll in classes.
Walk in classes for adults class are $15.00 - MUST be 18 or older.
Announcements:
Don't forget to get your DVD of CELEBRATE!, you can fill out an order slip located at the entryway of the studio or email us. DVDs are $10 and you can order till the end of June.
Bring A Friend! now thru June 22 Those currently enrolled in a class can bring a friend to try it out for free.

PD Swag!- wrap someone you love in clothes that support your school! See the swag and order form here!

Last day of classes is Saturday, June 22.
REMINDERS!
When we cancel class, we send out an email as well as post on this page!

If you are going to be late or miss class please

email or text us! Thank you.

Monthly tuition is due by the 10th. Cheryl is here during the first full week of the month to help you with any questions on your account.


Overdue tuition will result in a $10 late fee.