Community ~ Excellence ~ Fun
Camp enrollment is still open after

May 1, 2017
Spots will be given on a first come, first serve basis until they are full.
Sign up in person at the studio or email us:
pineappledanceoffice@gmail.com
REGISTRATION FORM (doc) | WAIVER (pdf)
Read more and see all the camp options: Pineapple Dance Summer Camps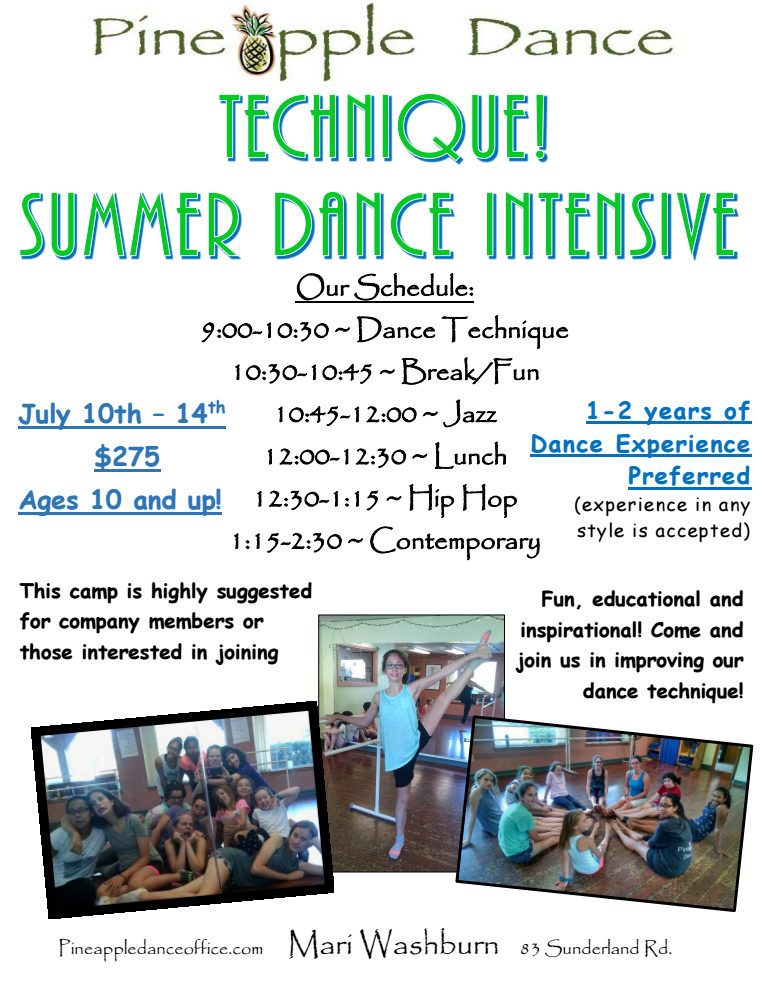 ANNOUNCEMENTS
SUMMER 2017 WEEKLY CLASSES
Summer classes will run July 3 - August 3o, 2017.
Schedule changes or cancellations will be notified via email and posted on the website.
Open Ballet (11+)
Monday 9:30 - 10:30 AM and
Tuesday 9:30 - 10:30 AM
Broadway Jazz (18+)
Wednesday 9:30 - 11:00 AM
Broadway Tap (12+)
Tuesday 6:45-7:45 PM
Open Tap (18 +)
Wednesday 11:00 AM - 12:00 PM
Spring SHOW: "Broadway Bound"
Costumes! All pieces must be returned by June 24. Anything damaged or not returned by this date will result in a $30 charge on your account. Do not wash costumes, this may damage them. We will wash all costumes after they are returned.


DVDs: When the DVDs from the show are available we will post on the website and email.
CLASS SCHEDULE
Monthly Tuition: June 10

Cheryl is here during the first full week of the month to assist with tuition payments and answer any questions about your account.
June 24 is the last day of classes before Summer break.