Community ~ Excellence ~ Fun
2018-2019 Regular Schedule
Information about cancelled classes due to weather will be posted here. Currently, all classes are in session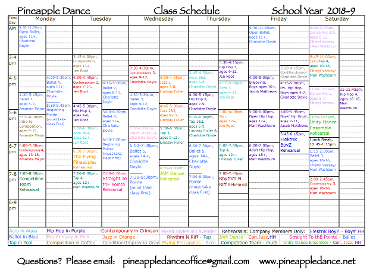 Schedule last updated 8/13/18
REGISTRATION
Our school year startedin September.
For ongoing enrollment please email us and we will be happy to assist you!
All new students will need to complete the 2018-2019 Waiver and the registration form for New Students.
Walk in classes for adults class are $15.00 - MUST be 18 or older.
Announcements:
Upcoming Company performances:


Festival of Trees, Saturday, December 15, 2018
Location: Yankee Candle WAREHOUSE, South Deerfield (building left of Village, inside)
Arrival: 11:15 am - warm up your body with your team thengo over your routine
Performance: starts at 11:30 am and excepted to end around 1:15 pm
Wear: your director will tell you (Charlotte has Santa Hats)
PLEASE bring phones to text rides if there are last minute changes

First Night Northampton, Monday, December 31, 2018; 3-3:45pm slot. Arrive by 2:30pm.
Location: Academy of Music, Northampton
Costume: your Company Director will inform you via email.
Complimentary Buttons to each performer for the First Night Event will be provided courtesy of Pineapple Dance.
Carpool if you can! Roads get closed down and parking is scarce all day.
REMINDERS!
Our Pineapple Dance School Show: "Celebrate!", June 8 & 9, 2019, Academy of Music

When we cancel class, we send out an email as well as post on this page!


If you are going to be late or miss class please email or text us! Thank you.


Monthly tuition is due by the 10th.
Cheryl is here during the first full week of the month to help you with any questions on your account.


Overdue tuition will result in a $10 late fee.