Community ~ Excellence ~ Fun
CLASS SCHEDULE
We will hold classes on Monday 10/10.
During the week of 10/24-10/29, students are allowed to wear their Halloween costume to classes, as long as it will not inhibit their ability to dance or distract them.
There will be no evening classes (classes starting at 5:30pm and later) on Monday 10/31. Happy Halloween!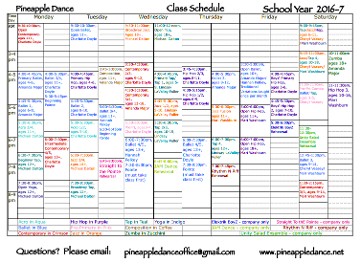 NEWS
Fall Registration STILL OPEN
Pineapple Dance is looking forward to another fabulous year with you; thank you so much for the awesome year we just had!
It's not too late to sign up for Fall semester classes!
Classes that have less than three students in them as of 10/31/16 will be put on hold until there is more interest. We will notify you in the event that this happens and make suggestions of other classes to switch into.
New this fall, we are implementing a digital registration system which will include a small fee of $20 per family.
Spring Show DVDS
If you have not picked up your Spring show DVD please ask next time you come for class.