Community ~ Excellence ~ Fun
ANNUAL SHOW
Get ready for a voyage into Space! Familiar themes from intergalactic sagas, stellar looks at songs we know, and some things that are really out there! Join Pineapple Dance on a cosmic trip!
We encourage you to buy your tickets in advance! Tickets at the door on the day of the performance cost more; $25 for adults, $15 for children.
**BUY TICKETS NOW!**
Dress rehearsal June 9, 2018
Information Sheet for Dancers & Families (pdf)
We need more chaperones!
If you are interested in volunteering to work as an usher, in the basement, backstage, or selling DVDs, please let us know! This is very important to us. With out the help of parent volunteers, the show cannot run smoothly.
Please email us ASAP if you are interested! You will be contacted in the next day with details about what you will be doing and the chaperone meeting. Thank you!
Ballet Intensive
with Charlotte E. G. Doyle
& Hannah Pelkey
June 25-29, ages 10+ co-ed
Acrobatics Camp
with Michael T. Dalton
July 9-13, mixed ages, co-ed
Kids' Camp
with Charlotte E. G. Doyle, Jacob Matthews, & Mari A. Washburn
August 13-17, ages 5-9
Dance NOW! Intensive
with Charolotte E. G. Doyle
& Mari A. Washburn
August 20-24, ages 10+
Place a deposit today to reserve your spot!

REGISTRATION
Our school year starts in September. For ongoing enrollment please email us and we will be happy to assist you!
All new students will need to complete the 2017-2018 Waiver (pdf) and the registration form for New Students (pdf).
Walk in classes for adults class are $15.00
MUST be 18 or older.
2017-2018 Regular Schedule
Information about cancelled classes
due to weather will be posted here.
Currently, all classes are in session.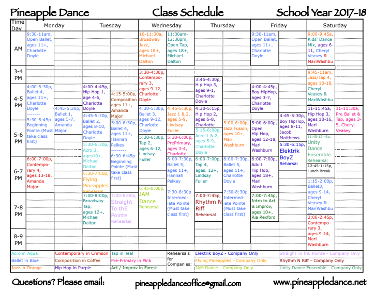 Schedule last updated 2/14/18
ANNOUNCEMENTS
MAY NEWS
This month's theme is: "Beauty in everything!"


May 9th - Yes, classes will be held


May 28th - No classes - Remember those who Served

June tuition is due by

June 1st

! Your account must be paid in full in order for your student to perform on

June 10

!



We will send out invoices that have both May and June's charges. As always, if you have questions or think something is incorrect, please contact us.



Here is the Information Sheet (pdf) for the show: Space - The Final Frontier, June 10, 2018.
Please make it a priority to be at all classes leading up to our performance. If you have to miss class, please practice at home; your team is counting on you.
REMINDERS!
When we cancel class, we send out an email as well as post on the main page of this website!


If you are going to be late or miss class please email or text us! Thank you.


Monthly tuition is due by the 10th.
Cheryl is here during the first full week of the month to help you with any questions on your account.


Overdue tuition will result in a $10 late fee.