Community ~ Excellence ~ Fun
CLASS SCHEDULE
April Important Dates:
4/14- Good Friday. No Classes
4/15-4/21- Spring Break. No Classes
Monthly Tuition:
Due by April 8
May 6
June 10

Half-Year Tuition:
Due by February 28

Cheryl is here during the first full week of the month to assist with tuition payments and answer any questions about your account.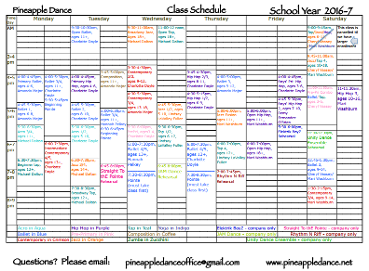 NEWS
Spring SHOW
Dress Rehearsal:
Saturday, June 3, 2017 4:15 PM
Showtime:
Sunday, June 4, 2017 4 PM
WINTER SHOW
January 15, 2017 - 2pM
Academy of Music, Northampton
DVDs will be available for pick up at the school starting the week of March 6, 2017.
All costume pieces borrowed from Pineapple must be returned by

January 31st

! Things ruined or not returned by the date will result in a $30 charge on your account.