WINTER 2021 Class Schedule
Click on the schedule for a full PDF download.
See Important Dates below!
See our Home page for instructions on how to register.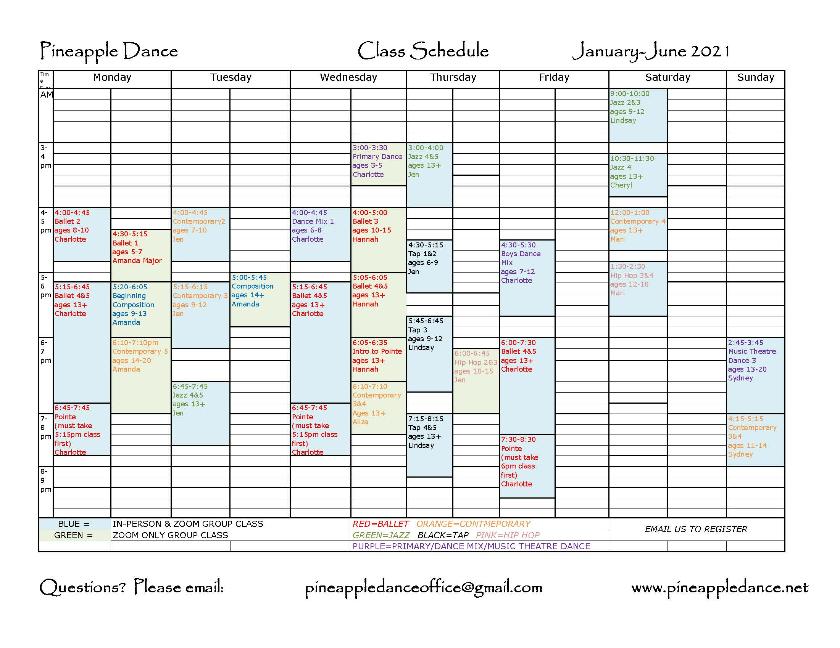 SCHOOL YEAR CALENDAR
SEPTEMBER 2020
14th - Dance classes begin
OCTOBER 2020
31st - Halloween: Boo! No classes
NOVEMBER 2020
26th-29th - Thanksgiving Recess: No classes, be thankful!
DECEMBER 2020
24th - 31st - Holiday Recess: No classes - enjoy family time!
JANUARY 2021
1st - 3rd - No classes - Happy New Year!
FEBRUARY 2021
15th - 21st - Classes will continue being held even though it is school vacation week
MARCH 2021
APRIL 2021
19th-25th - No classes during school vacation; enjoy the outdoors!
MAY 2021
JUNE 2021
27th - Last day of classes
JULY 2021
5th- Summer camps and classes begin